Bulletin Board
We will be closed for Thanksgiving, Thursday 11/27 through Sunday 11/30 - Hope everyone has a fun and safe Holiday!
Expert Articles & Advice
November 15, 2014
A renovation project can be very rewarding. But like most things in life, rewards don't come easy. Renovation projects can vary in size and expense, though one theme that holds true throughout any of them is the impact it makes on your daily life.
November 1, 2014
When renovating a room in their home, many people make the choice to go from paint to wallpaper. Generally, the only preparation needed is to fill holes or damage to the wall and then simply hang the wallpaper.
Special Offers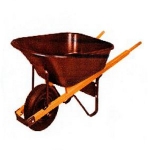 The MintCraft Pro Wheelbarrow Poly 6CU Kit makes for an easy clean-up and is light weight with lacquered wood handles for added durability.
Valid 11/01 - 11/29/2014